Fluffy clouds of spun sugar may bring up memories of county fairs and Disneyland trips. But these days, cotton candy is popping up in some unexpected places. From specialty shops to weddings, fresh cotton candy is all the rage.
For Lucia Rios, owner and creator of Twisted For Sugar, cotton candy is more than a trend. It was her life saver.
"After my second child, I was dealing with post-partum depression," Rios shared with us, "and I decided to stay home and heal instead of going back to work."
Her family had often brainstormed ideas for a "side-hustle," and cotton candy kept coming to the surface. During her time at home with her babies, Rios decided to bring that dream to life.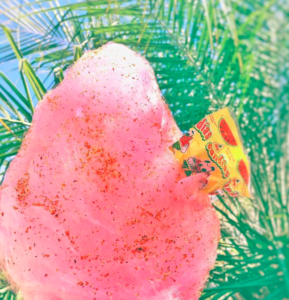 She began by purchasing sugars in interesting flavors and perfecting the art of spinning — or "twisting" (hence the name for her business) — sugar. But none of the flavors really spoke to her, so she decided to learn how to make sugars herself.
By taking control of the entire creation process, Rios opened up a whole new world of flavor. One day, while experimenting with a watermelon cotton candy, her family suggested she add a little Tajin to it. The seasoning — a mix of Mexican chiles, lime juice, and sea salt — is a popular topping for melons and citrus fruits in Latin culture, and it's crossed the border to become a hit throughout the United States.
As soon as Rios and her family tried her new Watermelon Tajin cotton candy, they knew they had something. Inspired by her culture, Rios decided to give her gourmet cotton candy business a Latin twist.
Her most popular flavors include Watermelon Tajin, mango with chile, horchata, and mazapan (a popular peanut-based Mexican candy). As one of Dessert Week's incredible vendors, she's cooking up a new treat especially for our event: an "Urban Myths" trio of cotton candies.
"It will be all black cotton candy meant to represent some Latino urban legends, such as El Cucuy, who's kind of like the 'boogie man." Rios continued with a laugh, "He scares kids into behaving."
When we asked Rios how she comes up with new concepts, she said that the mazapan flavor was a special request from her long-time boyfriend. "Other times, I'll be eating or drinking something and I think, 'Oh, this would be good as a cotton candy,'" she said. "Sometimes the flavor doesn't work at first, so I'll backburner it for a while. But I always hope to come back to it."
The sugar creation process is one of trial-and-error, and lots of patience.
"I'll test a few different flavors or variations and choose the one we like best. Some flavors are more delicate and take longer to process — close to 12 hours," Rios explained. "I have my own infusion, baking, and drying process that the sugars go through to make the flavors as accurate as possible. All my flavors are natural, unique, and made-from-scratch."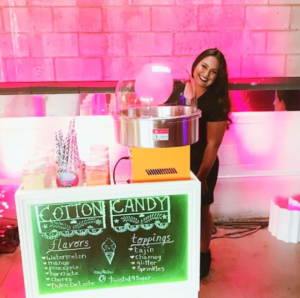 Once the sugars are ready, the cotton candy machine does the rest of the work. "We're 50-50 partners. I make it taste good, and the machine makes it look good," Rios said with a laugh.
While the ultimate goal is for people to enjoy Twisted's cotton candy creations, Rios hopes it goes beyond that.
"Cotton candy sparks a happy mood for people, right away," she said. "At the time I started this, I needed the positive happy vibes in the process."
Rios continues to dedicate herself to making new flavors that excite her and bring joy to her customers. She's also experimenting with toppings like sprinkles, edible glitter, and Pop Rocks. You can even pick up a tub of "unicorn food," for the unicorn in you — complete with purple sprinkles and edible glitter stars. Because we could all use a little sparkle in our lives.
To find out where Rios and the Twisted cart will be next, follow her on Instagram @twistedforsugar. And don't forget to follow us @dessertweek for all the must-know details about Dessert Week 2017!